By the time you're reading this, I'd most likely have attended my second Pow Wow. The first was in 2020 at the SaskTel Centre. The second will also be in the same venue, and I am excited! I attended my first Pow Wow before the pandemic and the extended period of lockdown that followed. It was just before large gatherings and big events became something to tackle with caution before Covid-19 changed how we meet and socialize with family, friends, and acquaintances. If I recall correctly, my first Pow Wow was in January of 2020, five months after I landed in Saskatoon from Yenagoa, Nigeria. The event was a sight to behold, and the memories have stayed with me after all this time.
Apart from my mother and siblings, the one thing I thought I'd miss the most about leaving home and immigrating to Canada was the rich culture and heritage of my West African ancestry. Unsure of what life would be like away from the familiar languages, accents, spices, dance, fashion, spirituality, and all of the other rites I've been exposed to from childhood and up until growing up into the man I am today, I was petrified.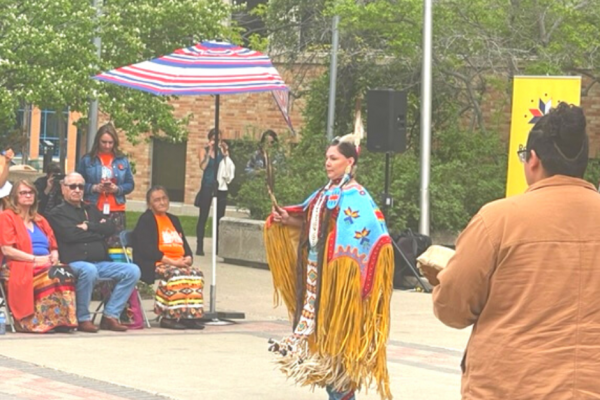 Sitting in the bleachers that weekend and taking in all of the sights and sounds as men, women, and children acknowledged the Creator in prayers and ceremony, I felt at home. I felt welcomed to this land. I was happy I decided to come over to this land that bears so much similarity to mine. The elders, the drums and dances, the teepees and tobacco, the sages and smudges, and the rich and colorful regalia I saw inside and outside the enormous arena, that day reminded me so much of home and our traditional ways.
If I'm being honest, I came to this country expecting only to hear English and French, which are the languages an immigrant to Canada may be required to demonstrate some measure of fluency in their application. But that day, I learned for the first time that there were Cree, Dakota, Dene, Nakota, and Saulteaux languages, and I was pleasantly surprised. In some of the events I have attended and places I have been, I have heard those languages spoken, and their musicality warms my heart every time.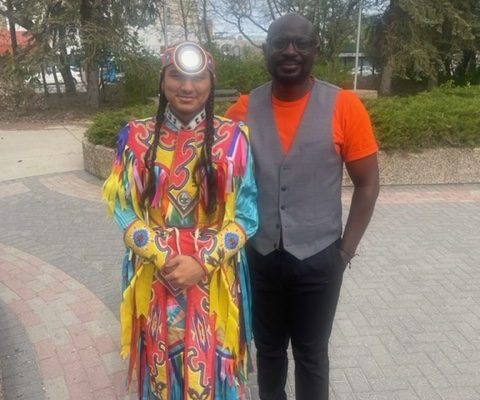 I signed up for Saskatoon Open Door Society's volunteering program when I first arrived in Saskatchewan and eventually worked full-time in the same organization. I have been privileged to learn more about the Indigenous peoples of Canada.
If you are new to Canada, about to move to Canada, or considering starting moving to Canada, take some time out to read about First Nations and the Indigenous people. Their land has welcomed many refugees and immigrants from all over the world. Learning and understanding this history should be your first step in your settlement journey.
Open Door has an Indigenous Circle program that was started some years ago. The program brings people together to learn about each other and share intercultural experiences.
In my job as a Cultural Bridging Facilitator, I focus on the commonalities many newcomers share with the Indigenous. As you start your life or plan to begin a new life in the prairies, remember that we are all Treaty people!
Note: A Pow Wow is a traditional Indigenous ceremony featuring songs, dances, and feasting.