Soft skills are personality traits that help people interact better with others at work, home and other social settings. They are often called "people skills" and when it comes to employment and career development, they are highly transferrable across different professions. Soft skills are often associated with verbal communication but written communication skills are equally important, especially today when a big part of our daily interactions involves sending and receiving emails and writing reports.
When reviewing job postings many would come across a requirement to be able to "communicate effectively both written and orally". In job search, your writing would give hiring managers the first glimpse into your communication and self-presentation skills.
Here are some tips to improve your written communication skills:
One effective way of improving your written communication skills would be to connect with a language school or a settlement agency upon arrival in Canada and register for a Business Communication course. Business English is widely offered online and there are many options for every budget.
There is an etiquette for written communication. Be polite in your tone, use proper salutations and address recipients with a warm greeting like "Good morning/afternoon" and conclude your email with "Sincerely" or "Thank you." Use easy-to-understand wording and steer clear from technical jargon as your reader might not be familiar with such terms. Express yourself clearly while keeping in mind the communication style of the recipient.
A Note Regarding Salutations

These days many companies and organizations require employees to have their pronouns in their signatures. Be sure to check this before addressing someone as Mr. or Ms. If someone does not indicate their pronouns, do not assume their gender. It may be offensive to some people. In fact, it's probably best to clearly address the person by first and last name. For example, 'Dear John Smith' is preferred over 'Dear Mr. Smith.'
Fill the subject line with the topic of your email. Your recipient would likely receive many emails from others so your topic needs to be clear. When submitting your job application make sure to include the job title and its reference code in the subject line. Forgetting to include a subject line might keep your message from being read.
Having an error-free message would give the best first impression to prospective employers. So, do not rush and take time to review the grammar, spelling and formatting of your written communication. If in doubt, ask for help and let your friends and family members review your writing.
Skills come with practice. This old adage is applicable to writing as well. Excelling at written communication will become easier as you practice corresponding in English and applying for jobs.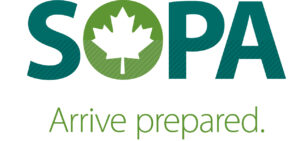 Elmira Alim works in the SOPA Ontario team at World Skills Employment Center and facilitates Job Search Strategies Course. With a background in postgraduate education, she has the right tools to support clients in learning the necessary skills for the Canadian Workforce.