This blog was written by Navreet Cheema, Community Outreach Coordinator, Transit,
from the City of Brampton.
New to Transit in Canada? Here are the top 10 tips to help you get started.
Welcome to Brampton, Canada, one of the fastest growing communities in the country and home to an award-winning transit system, Brampton Transit.
The following ten tips will help you become an experienced rider with Brampton Transit.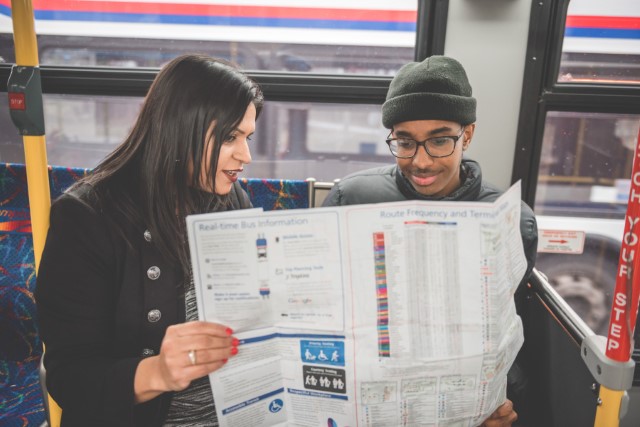 1. Know where you are headed.
If you are heading to a new location, know the major intersection as well as the address for a Brampton Transit employee to be able to assist with directions. As well, you may plan your trip online or call the Brampton Transit Contact Centre to assist.
2. Arrive 5 minutes early to your bus stop.
To ensure you catch your bus arrive at least 5 minutes early to the bus stop.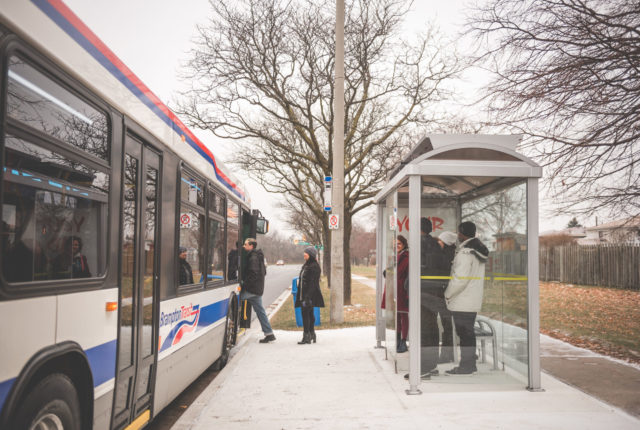 3. Mind the invisible line.
If others are waiting for the bus before you, line up behind them and allow them to enter the bus first.
To ensure a swift and smooth boarding, have your fare ready to go before boarding the bus. You can pay with cash or with a PRESTO card.
5. Yield to passengers exiting the bus.
Allow people exiting to get off the bus first before entering.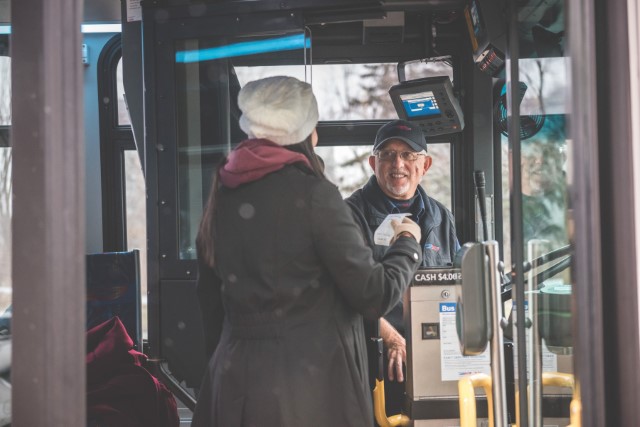 6. Stand behind the yellow line.
Please stand behind the Operator and refrain from lengthy conversations with them. Move to the back of the bus and have a seat or find a place to stand.
7. Respect the Priority Seating on the bus.
The front seats are reserved for priority seating, for people with disabilities, seniors, and expectant mothers. Please vacate your seat for someone in need.
8. Your backpack does not need a seat.
Remove your backpack when on the bus and place all your belongings in your lap or on the floor – do not take up the seat.
9. Be courteous and keep the volume down.
Use headphones when listening to music or on a phone call and keep the volume down.
10. Help keep the bus clean.
Take your garbage with you and exit through the back door.
See Something, Hear Something, Say Something.
The safety of passengers and employees is our number one priority. We all have a responsibility to look out for the safety of the Brampton Transit community. We encourage everyone to commit to being alert, informed, prepared and involved partners in safety. Be on the alert for suspicious or unusual activity and report it immediately to a Brampton Transit Employee, City of Brampton Corporate Security at 905.874-2111or in an emergency call 911.
If you would like more information on Brampton Transit services, schedules and routes, contact 905.874.2999 or [email protected]. If you require translation services, call 905.874.2999, advise that you need assistance and say the name of your language in English. An interpreter will be assigned to you at no cost. Please stay on the line while the interpreter is connected.
To stay up to date on all things Brampton Transit follow them on Facebook, Instagram and Twitter @BramptonTransit.