This blog was written by Andrew Salmon, Digital Media Marketing Manager for Destination Canada Info Inc.
Making sure that you have everything in place for your move to Canada can be a real challenge, especially right now. Due to COVID-19, when you land in Canada you must isolate for 14 days or face a fine or even prison time. It is essential that you have a plan for when you land. Here are some questions that you need to ask yourself before moving to Canada to ensure that you are fully prepared for the 14 day isolation period.
1. Have you arranged a location to stay for your 14-day isolation period in the city where you will arrive?
Until further notice, international flights are landing at four Canadian airports: Vancouver, Calgary, Toronto, and Montreal. You will need to arrange a place to stay during the 14 day period after you land where you will be comfortable isolating yourself. Make sure that you have plenty of access to books, magazines, TV and any other forms of entertainment you need during this time.
2. Is there anyone at your isolation location who is vulnerable?
This includes people who:
Are over the age of 60
Have a medical condition such as heart disease, high blood pressure, asthma or another lung disease, diabetes, cancer, immune suppression, or taking prednisone medication
If yes, you will have to identify a different location to isolate.
3. Have you arranged private transportation to travel from the airport to your isolation address?
You will not be able to use public transport including city buses, trains, and subways. This might mean that you need to spend a little more money to get to your destination, so be sure to plan for that.
4. Do you have a plan to get food and groceries during your quarantine?
After landing in Canada you will be able to find grocery and food delivery apps available. These can be a great way to keep your pantry and fridge fully stocked during your isolation period.
5. Do you have a non-medical face mask or face covering to wear when travelling?
If no, airport officials will provide you with a face mask to travel to your isolation location. You may find providing your own face-covering more comfortable. So make sure that you bring one to the airport.
6. Do you have enough money and necessities (including medication) for your 14 day quarantine period?
Packing everything that you need for the 14 day period is the best way to approach your first two weeks in Canada. You will need to think carefully about everything that you will need during this time.
If you want to know more about how to fully prepare for landing in Canada, then download Prepare for Canada's FREE Checklist Ebook.
Checklist 1: Documents you can't forget to bring
Checklist 2: What you can and can't bring with you
Checklist 3: Transferring finances
Checklist 4: Medical and immunization records
Checklist 5: Professional documents
Checklist 6: Tips for shipping personal effects
Checklist 7: What to know about medical insurance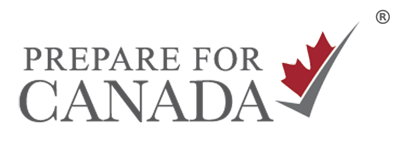 Canada's largest digital destination for newcomers.
Register with Prepare For Canada today and access essential information and resources that will help you to get ready for your move to Canada and provide support long after you arrive!