This blog was written by the team at Employment services of Centre francophone de Toronto, Canada.
The Centre francophone de Toronto is the main entry point for Francophones who live or plan to settle in Toronto. The Centre offers a range of services to the whole Francophone community
Centre francophone de Toronto offers:
Health Services
Children and Families Services
Newcomer Services
Employment Services
Legal Aid Services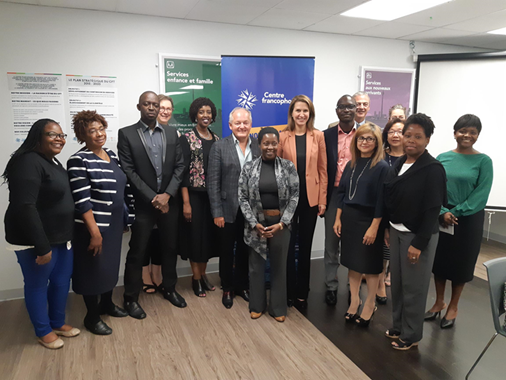 1. Ensure that your resume is aligned with the Canadian standards.
Prepare a resume in English and in French.
2. Improve your fluency in English.
French is an asset as long as you are bilingual.
3. Do some research before setting realistic goals (short term/long term).
Get your degrees and diplomas assessed. Some jobs are regulated. You might, therefore, have to enhance your skillset through education.
4. Build a network.
The most efficient way to find a job in Toronto is through networking. Use every opportunity to network: volunteering, mentoring, conferences, job fairs, etc.
5. Be informed.
Know the employment standards in Ontario.
6. Explore the Canadian culture.
It's an essential key to adapt efficiently to the workplace.
7. Practice your interviews.
The first interviews in English can be difficult, but as you do it more often, you will get better at it.
8. Know your value and be confident.
You need to know which skills and abilities you can offer to an employer and how you can contribute to the organization's success.
9. Be patient and flexible.
Finding a job might take time, especially if it's your first experience in Toronto. Your first Canadian experience might not be your dream job, but it can be a good stepping stone.
10. Seek help.
Participate in free workshops, reach out to an Employment Counsellor and/or Employment Ontario, ask questions, etc.
Le Centre francophone de Toronto est la porte d'entrée pour les francophones qui vivent à Toronto ou qui viennent s'y installer. Le Centre offre des services variés à l'ensemble de la communauté francophone.
Centre francophone de Toronto offre :
Services de santé
Services enfance et famille
Services aux nouveaux arrivants
Services d'emploi
Services d'aide juridique
1. Assurez-vous que votre CV corresponde aux normes canadiennes.
Préparez un CV en anglais et en français.
2. Améliorez votre niveau d'anglais.
Le français est un atout si vous êtes bilingue.
3. Effectuez des recherches avant de vous fixer des objectifs réalistes (à court et à long termes).
Faites évaluer vos diplômes et compétences. Certaines professions sont réglementées, il est donc possible qu'une formation ou un cours soit requis.
4. Créez votre réseau.
Le réseautage est la manière la plus efficace de chercher un emploi à Toronto. Utilisez chaque opportunité pour réseauter : bénévolat, mentorat, stages, conférences, foires d'emploi, etc.
5. Restez informé(e).
Obtenez plus de renseignements sur les normes d'emploi en Ontario.
6. Explorez la culture canadienne.
C'est une clé essentielle pour une adaptation rapide et efficace au sein du marché du travail.
7. Faites des entrevues. Pratiquez!
Les 1ères entrevues en anglais peuvent être difficiles, mais plus vous en ferez, plus cela sera facile.
8. Apprenez à bien vous connaître et soyez confiant(e).
Il est important de savoir quelles compétences et habiletés vous pouvez offrir à un employeur et comment vous pouvez contribuer au succès d'une organisation.
9. Soyez patient(e) et flexible.
Trouver un 1er emploi en Ontario peut prendre du temps. Votre 1ère expérience canadienne ne sera peut-être pas l'emploi idéal, mais elle pourra constituer un tremplin pour votre carrière.
10. Faites-vous aider.
Inscrivez-vous à des ateliers gratuits de recherche d'emploi, communiquez avec un(e) conseiller(ère) en emploi ou/et Emploi Ontario, posez des questions, etc.