This blog was written by the Centre for Equality Rights in Accommodation.
Tenant: a person who occupies a home rented from another person (the landlord).
Landlord: a person who rents homes to another person (the tenant).
Renting an Apartment in Ontario
In Toronto and many communities in Ontario, it's important to go into the apartment "hunt" well prepared. Being prepared is important for a few reasons:
Getting an apartment can be competitive – it is important that you explore your options before settling into one place.
Gathering all the required documentation may take a while. This is why it's important to have documents and information prepared, such as proof of income (optional) and a last month's rent deposit.
Understanding your rental contract can be difficult. For this reason, it's important to know your legal rights.
Some important things to know:
The landlord cannot refuse to rent to you because you have children.
It is illegal for landlords to refuse to rent to you because you do not have Canadian landlord references or a Canadian credit rating.
The landlord cannot ask you to pay your rent in advance or insist that you give them post-dated payment.
Laws exist to protect renters/tenants
In Ontario, landlords cannot discriminate against tenants and people looking for housing. Ontario's Human Rights Code says that a landlord can't treat someone differently or refuse to rent to them because of their: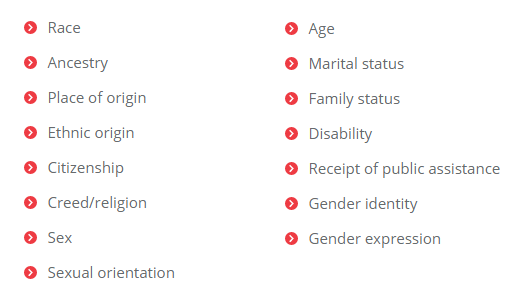 This means that when you are looking for a home to rent, a landlord cannot refuse you because of your background or because you are new to Canada. If these kinds of things are happening to you, you can call CERA at 1-800-263-1139.
What questions landlords can and cannot ask...
The Residential Tenancies Act outlines rules landlords and tenants must follow. For example, did you know:
In most cases, landlords can only raise your rent once a year with limits set out by the government.
Landlords cannot evict you from your home or change your locks without going to a court (the Landlord and Tenant Board) to ask permission.
Once your lease expires, it runs on a month to month basis. You do not have to move out or sign a new lease. The rules from the old lease continue to apply until you move out of the unit.
Some of your responsibilities as a tenant:
You must pay your rent on time every month with no exceptions.
You cannot disturb other tenants.
You have to let the landlord enter your unit if they have a good reason and they have given you at least 24 hours written notice before entering.
Call CERA - We are help to help answer your questions
If you have questions about your housing rights when you arrive in Ontario, call us. Our phone line is open Monday-Friday, and we can answer your questions for free.
Centre for Equality Rights in Accommodation. Your Housing. Your Rights.
1-800-263-1139 Ext 1
www.equalityrights.org