This blog was written by Heather Brothers, Project Coordinator for Career Pathways for Women, Achēv.
Achēv Career Pathways for Women is a free program designed to provide visible minority newcomer women with the essential skills needed to successfully navigate the Canadian workforce. Due to the Covid-19 pandemic, we know that staying motivated during your job search is more difficult than ever. That's why we are about to kick off our upcoming virtual hiring event and invite all professional newcomer women to register on December 11, 2020 from 11:00 am until 1:00 pm EST. Attend and learn what Ontario employers are looking for right now in candidates.
Register now by emailing [email protected].
As a newcomer, it may be challenging to stay focused on job search activities. Here are a few suggestions to help keep you engaged and on track with your career goals:
Leverage Your LinkedIn and Social Media Platforms
During these trying times, social media can greatly help with job search. We suggest using this time to grow your contacts on platforms such as LinkedIn, where you can touch base with old connections and build brand new relationships with professionals in your field or area of interest. Once you have built these connections, you can ask them for informational interviews. Informational interviews are helpful when searching for work and transitioning into a new career as it allows you to learn more about the job or industry which you are interested in. Finally, you are able to leverage your LinkedIn platform for job search by increasing your activity and presence on the website via sharing content, liking posts and following thought leaders in your industry.
Another way to stay on track with job search, is by using this time to brush up on your skills. You can do this by attending webinars, workshops and program information sessions offered by free government funded services. Many libraries also offer online courses. If you're local to Toronto, you can visit  Learn For Life (tdsb.on.ca) for more information. Other virtual events can be found on platforms such as Meetup, and you can find hiring opportunities online at Online Job Portal HTML.
In addition, you can also research labour market news in your field to discover new trends and skills that are currently in demand. Once you are aware of the skills that you would like to learn you can apply online for volunteer opportunities.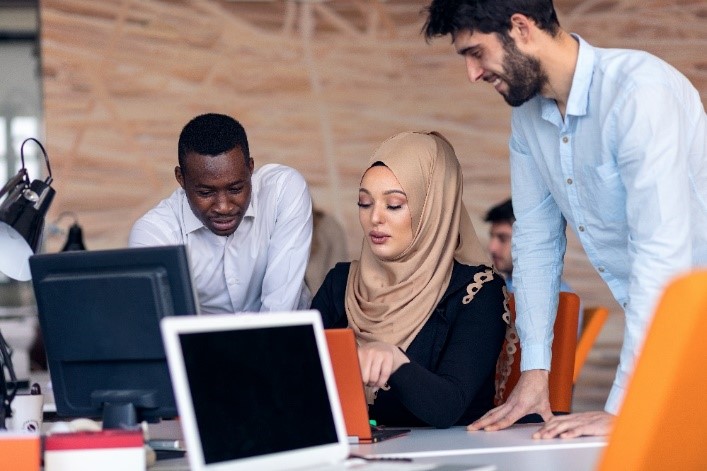 At Achēv, we recognize that staying on top of job search is difficult, especially during the Covid-19 pandemic. That is why we suggest creating a routine with a consistent schedule and setting goals for yourself in order to stay motivated. Finally, you are able to access free support from our Career Specialists who can help you every step of the way, Job seeker – Achēv (achev.ca).
Are you a professional newcomer woman looking for 1-1 employment support? Register for the Career Pathways for Women January 11th cohort. We are now accepting applications!
Are you eligible? Here's the criteria to apply:
Eligible to work in Canada
Permanent Resident and Convention Refugee
Canadian Language Benchmark (CLB) 7 or higher (verbal and written)
Highlights of the Virtual Program & Training Include:
2 weeks of training in the best Job Search Practices for Covid-19
Essential Skills assessment and upskilling resources to address skill gaps
Personality Dimensions assessment and workshop
Seminars in Diversity & Inclusion in the Canadian Workplace
Portfolio and Career Development tools
Direct access to Achēv's Language Programs and Services, TRIEC Mentorship opportunities, Career Loans Program and Compass to Connect
Monthly networking and mentoring activities exclusive to program participants of the Career Pathways for Women
Events and connections to employers and local professionals in your field
10 weeks of 1-1 coaching and job search support from a Workplace Development Coach
Childcare support services (if eligible)
Laptop lending program
Transportation cost reimbursement
Limited spaces are available. Apply by emailing [email protected]