Newcomers Sustainability Workshop – Sense of Place
Saturday, May 22 @ 2:00 pm

-

4:00 pm

Free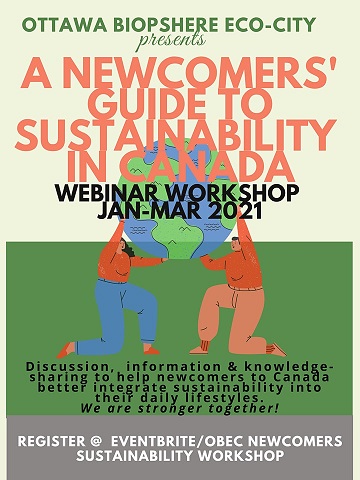 Ottawa Biosphere Eco-City (OBEC), with one of our members, Juliet Asikhia, is putting together a webinar workshop for newcomers to Canada!
OBEC is a local grassroots charity working to engage Ottawa communities in sustainability education and cooperation.
Our member, Juliet, is a newcomer to Canada within the last two years. Based on her own challenging experiences navigating sustainability in a new country, Juliet saw the need to create a sustainability workshop geared specifically towards newcomer communities in Ottawa.
We want to support these communities in particular because we've found that newcomers are often left out, or else, for various reasons, not able to fully participate in sustainability dialogue and/or practices here in Canada.
However, sustainability impacts us all and we want to engage newcomers to share their ideas and experiences on sustainability as much as inform them about various sustainability practices, resources and tools at their disposal here in Canada.
This workshop will provide participants with relevant information, materials and content to make more sustainable living choices in their day to day lives here in Canada, on sustainability issues related to such things as waste, food, habitat, recreation and sense of place.
It will be a great opportunity to learn more about sustainability in Canada and make new friends along the way.