What up, Next Stop Canada?
Pinoy Fiesta and Trade Show 2017
The Honourable Ahmed Hussen, Minister of Immigration, Refugees and Citizenship (IRCC), stopped by the YMCA booth during the Pinoy Fiesta and Trade Show 2017 at Metro Toronto Convention Centre
In 2016, the Philippines was the top source country for immigrants to Canada. Next Stop Canada has made significant efforts to connect with the Filipino community in Toronto to service these individuals and their families. One of those efforts include outreach, and on June 24th we had the opportunity to attend the annual Pinoy Fiesta and Trade Show.
Hosted by the Philippine Canadian Charitable Foundation, the event has drawn thousands of attendees to the Metro Toronto Convention Centre (MTCC) since 2011. As an exhibitor, we spoke to many people who had family or friends who are immigrating to Canada soon and will be in need of pre-arrival services. The event was well attended, drawing thousands of people.
To our surprise, the Honourable Ahmed Hussen, Minister of Immigration, Refugees and Citizenship (IRCC), made an unexpected appearance and a speech to those in attendance. He spoke of admiration for the Filipino community's contributions to Canadian society and culture, his efforts to continue connecting with members of the community, and how the IRCC aims to help even more immigrants from the Philippines transition to their new homes in Canada. Before leaving for Ottawa, Minister Hussen made a stop at our booth, where we had a chance to brief him about our pre-arrival program. He was delighted to know we are an integral part of serving clients through their immigration journey. We continued the day speaking with attendees and collecting emails to follow up with potential clients.
The day was very successful, and we hope to continue connecting with members of the Filipino community to help them prosper in Canada.
From Stress to Success: Sarah's Journey with Next Stop Canada
Sarah immigrated to Canada from United Arab Emirates. She was taking this journey to her new life in Canada alone with an immense sense of stress and was very overwhelmed before using Next Stop Canada's services.
As soon she was given access to Next Stop Canada, she was provided with a personalized settlement plan. She maximized the features found in our portal, where she watched our live webinar, "First Weeks in Canada," which outlines all important steps to take when immigrants are still in their home countries, when they arrive to the airport and once they are settling in their first few weeks. She also chatted with an Information and Referral Specialist about booking a language assessment appointment.
After accessing the services Sarah felt at ease, fully supported, and prepared because she had prioritized the most important tasks even before immigrating.
"The information provided on the site was very thorough and once I've signed up, I was provided with a customized pre and post arrival checklist, which made it easier for me to transition and lessen the stress that I'd be forgetting something important even before landing in Canada.

The best part would be that it helps new immigrants to feel at ease and supported even before landing in Canada. As someone who landed on my own and without a friend or family member in Canada, it was overwhelming but the support given made me feel that I am not going through everything on my own.

Everyone has been very friendly and patient with all the questions I've had (and there were plenty, mind you). I would recommend Next Stop Canada, specially to those who are coming to Canada on their own as well. Thank you so much for your help! Cheers!"

– Sarah A.
Debarati Mukherjee
When Debarati first came to Canada in 2015, one of her major concerns as a newcomer was not having the Canadian work experience and the network to enter the job market here, which made her feel heartbroken and frustrated. But her perseverance and hard work paid off when she landed a job as a senior content marketing specialist with mobileLIVE after two months of volunteering tirelessly for an organization that harnessed her strengths and developed her skill set.
Now that she's a mentor for Next Stop Canada, she is very happy to connect with future immigrants and share her experiences and lessons learned to them. Debarati believes that her secret to success in Canada is patience. "Hardships will be there but remember patience is the key," Debarati says, "Try, try and keep trying."
Read more about Debarati's story in our Next Stop Canada blog!
Sanjae Mahmud - My Volunteerism Helped Me Get a University Scholarship!
I started volunteering at Next Stop Canada in 2015 and it's been a great learning experience for me! There are lots of things I get to do to help pre-arrival youth learn more about the amazing country they are immigrating to. Since the beginning of the program I have participated in making many vlogs and blogs about Canada including a vlog on ice-skating! Another mentor and I recorded some other mentors skating and used that footage to make a vlog for pre-arrival youth to learn about Canadian activities.
We also have the opportunity to actually talk to pre-arrival youth and personally answer any questions they have about coming to Canada through live chat or direct messaging. This is very rewarding because as an immigrant myself I get to share my own personal experiences.
Next Stop Canada has been great experience for me to get involved with my community, which has been a great learning experience for me. I've also had the chance to improve my soft skills such as my leadership and teamwork skills. As a result of my volunteer work at YMCA and the connections I have made with my advisors I became a recipient for an amazing scholarship opportunity! With the help of my advisors I applied for the Ted Rogers Scholarship Fund recently found out that I received it! The Ted Rogers Scholarship will help me achieve my post-secondary school goals next year! It has been a rewarding and amazing experience working with my great advisors and the other incredible mentors this past few years through Next Stop Canada.
– Sanjae
Volunteering with Next Stop Canada
Dajana Velickovic
Ever since I came to Canada three years ago, I was wondering how different could it be to start a new life here if I had any settlement support before I immigrated. For internationally trained individuals like me who did not have relatives or friends living in Canada, having access to a pre-arrival settlement service is crucial.
When I went to one of the YMCA of Greater Toronto centres to have my language assessment, I voiced out these thoughts to my assessor and she told me to see an Information and Referral Specialist at their Newcomer Information Centre so they can help me out with my concern. The Information and Referral Specialist then gave me valuable information about volunteering, and introduced me to their pre-arrival program, Next Stop Canada, which at that time, was looking for volunteers.
It was love at first sight when I met the Next Stop Canada team because they are very energetic and serve every new immigrant with enthusiasm. In the past, I personally experienced difficulties settling here, and I am very happy that pre-arrival services are now available for future immigrants to ease their anxieties and concerns in starting a new life in Canada.
I decided to join the Next Stop Canada team as a volunteer to contribute my knowledge and experience in connecting with internationally trained individuals immigrating to Canada. I am honored to be working with a team that provides reliable information on settlement, employment, education and so much more.
– Dajana
Next Stop Canada in Action!
Celebrating Newcomers in Toronto
Next Stop Canada had the opportunity to attend the Toronto Newcomer Day at Nathan Phillips Square in downtown Toronto on May 15, an annual event that welcomes newcomers to Toronto and celebrate their contributions to the city. The day was alive with fun-filled activities and entertainment that everyone can enjoy.
One of the activities during the event was the Citizenship Ceremony held in partnership with Immigration, Refugees and Citizenship Canada and the Institute for Canadian Citizenship. During the ceremony, new Canadians take the Oath of Citizenship and a reception was held afterwards where everyone was welcome to attend.
On the other hand, the Information Fair was one of the highlights of the event. Around 50 community agencies participated in the information fair where they get to present programs and services available to newcomers in Toronto. It was here that we got to promote our pre-arrival program and services to them, many of whom had family and friends back home who are immigrating to Canada soon and will benefit from Next Stop Canada's services. To make it more enjoyable for newcomers, we played a fun game where participants can answer questions about Canada and when they got the answer correct, they win a prize. It was amazing to see how many people gathered around the YMCA booth to participate! They enjoyed the activity while getting to know our services. All in all, it was a successful and fun day for everyone who attended.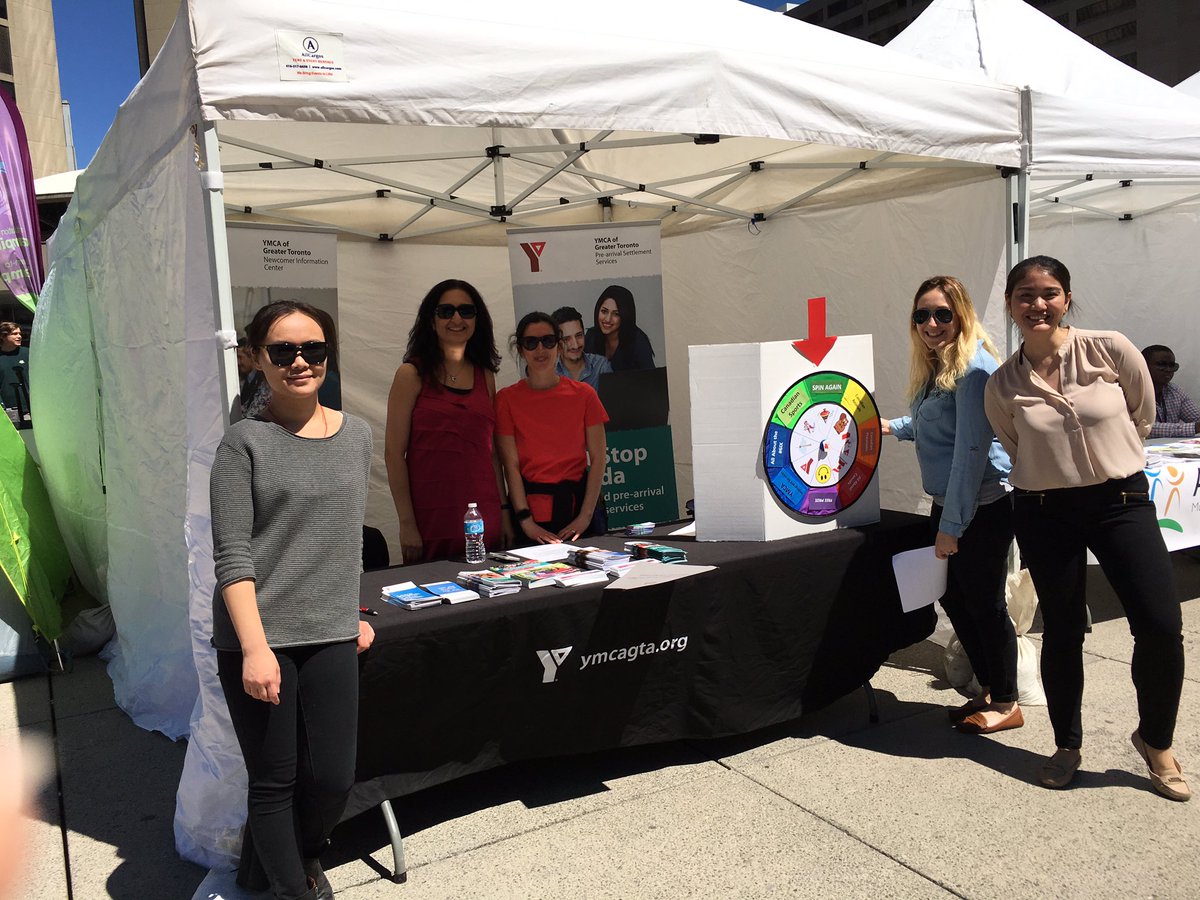 The YMCA Immigrant Services team in their booth during the Toronto Newcomer Day at Nathan Phillips Square
Career, Education and Settlement Immigrant Fair 2017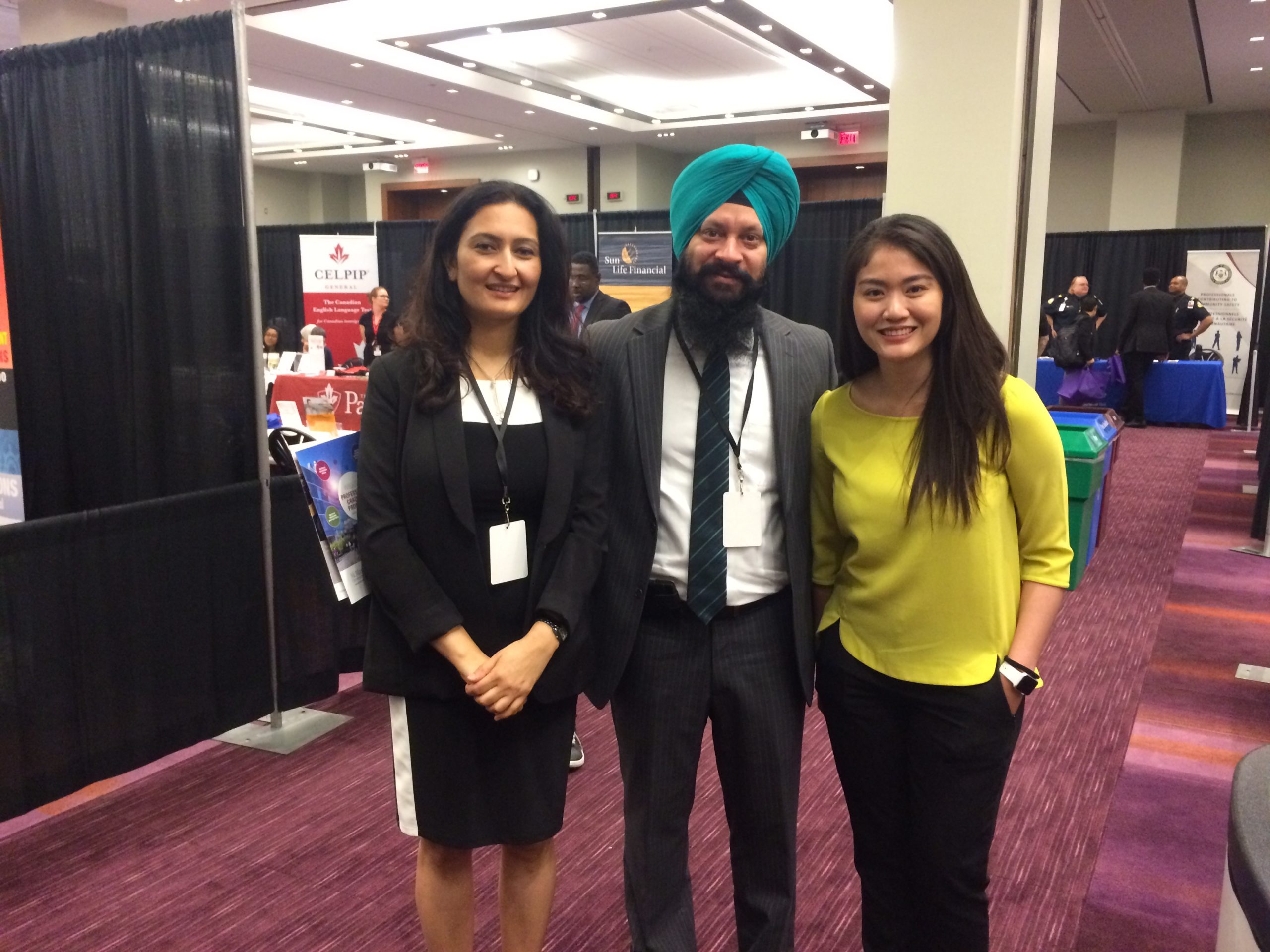 With Sukhjit Singh, Next Stop Canada mentor during the Career, Education and Settlement Immigrant Fair at Metro Toronto Convention Centre
The Canadian Immigrant Magazine held its 6th annual Career, Education and Settlement Immigrant Fair in June 3 at Metro Toronto Convention Centre. The event has proven to be a great opportunity for immigrants, service providers, educational institutions and employers to learn, engage and connect with each other. The fair features activities for newcomer immigrants such as workshops, resume clinics, speed mentoring, networking and more.
Next Stop Canada attended the event together with the other staff from YMCA of Greater Toronto's Employment and Immigrant Services. The YMCA Employment Program participated in the resume clinic, where job seekers can get valuable advice and tips from an employment counsellor on the spot during the event. On the other hand, we connected with a number of attendees with family members and friends immigrating to Canada. It was a good opportunity to promote our services, emphasizing that our program can help them feel more secured, confident and prepared even before they arrive in Canada by giving them the appropriate information and referrals about topics such as employment, education, settlement services and a whole lot more.
During the event, we also met Sukhjit Singh, one of our Next Stop Canada's most active mentors. It was great to hear that he expresses his full support for our program and continues to help both future immigrants and newcomers settle successfully in Canada.
Overall, it was a successful event as we get to generate community awareness to newcomers and service providers about YMCA's pre-arrival program.
National Ethnic Press and Media Council of Canada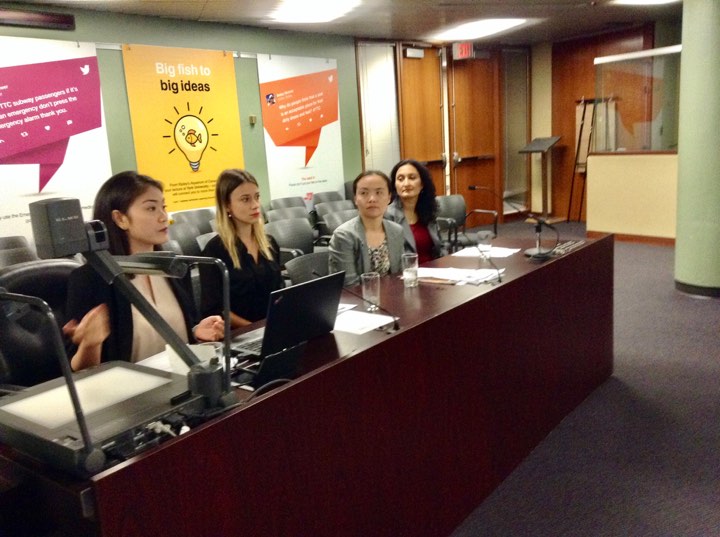 The staff presenting the YMCA of Greater Toronto Immigrant Services at Toronto City Hall
The National Ethnic Press and Media Council of Canada (NEPMCC) is a non-profit organization whose mission is to promote the economic, social and cultural interest of ethnic communities in the Canadian society. They are composed of 650 small publications and 150 broadcasters for radio and television. One of their main goals is to educate newcomers about settlement issues and available support in Canada through responsible journalism in the ethnic media.
Last July 10, Next Stop Canada, together with the newcomer programs under the YMCA Immigrant Services, had the opportunity to present its services to NEPMCC members at the Toronto City Hall. The meeting was well-attended, with over 30 media persons present which included journalists, TV station hosts, radio hosts and others.
The  presentation was very successful in informing these individuals of our programs and services and how it all works together to help the immigrant community. The responses and feedback we received were all very positive. After the presentation, we were able to network and connect with some of them to collaborate on future projects. Overall, it was a productive outreach since we get to build new relationships and promote Next Stop Canada services.
The National Ethnic Press and Media Council of Canada members during their monthly meeting at Toronto City Hall
Interview with Toronto City Councillor, Joe Mihevc
By Rheign Morales
On Monday, May 8, 2017, the Next Stop Canada Youth mentors, Janice, Parnian, Evelyn and I had the amazing opportunity to interview Toronto City Councillor, Joe Mihevc representing Ward 21 of St. Paul's West. Joe Mihevc is an advocate for strong neighbourhoods, healthy communities. He strongly believes that youth are the foundation of our community therefore he puts a huge importance in youth engagement especially towards new Canadians who are just settling into the City of Toronto.
My co-mentors and I were nervous as we walked into the City Hall. The privilege of interviewing a politician is an honour and it was all our first time doing so. As City Councillor, Joe Mihevc slowly entered the room, I felt my heart tremble because I personally am amazed with the amount of commitment he gives out to our city. My nervousness immediately went away as he provided such a warm and welcoming space for my co-mentors and I. He was very excited for all of the questions we had prepared for him. With Evelyn and Parnian behind the camera, Janice as my co-interviewer and Sarah to support us, the interview went very smoothly.
Next Stop Canada Youth Mentors interviewing Joe Mihevc, Toronto City Councillor
The Youth Mentors and Sarah Biderman, Next Stop Canada Youth Specialist, with Joe Mihevc, Toronto City Councillor
During the interview, we talked about issues surrounding newcomer youth in the community, his role as a City Councillor and tips for immigrants on successfully settling into their new homes. Councillor Joe Mihevc strongly associates himself with the newcomer community as his family immigrated to Canada many years ago from Slovenia. Being a city councillor is not an easy job as stated by his secretary, "He has meetings after meetings", but yet he still managed to make time to meet with Next Stop Canada.
With the knowledge gained from this interview, we hope to further serve our pre-arrival youth audience with information to ease their transition into Canada. Being a newcomer in a new city is not easy, but it is our job as Next Stop Canada youth mentors to make our pre-arrival youth feel confident in their journey to Canada!
Featured Partner: Immigrant Access Fund (IAF)
The Immigrant Access Fund (IAF) is a not-for-profit charity providing micro loans of up to $10,000 to internationally trained immigrants, to obtain the Canadian licensing or training they need to work in their field. Immigrant professionals bring much skill and knowledge with them to Canada, but face significant barriers to employment. Lacking income, collateral or credit history in Canada, it is difficult if not impossible for them to access mainstream credit.
An IAF loan can pay for exams, training, qualification assessments, professional association fees, books and course materials, living allowance and other expenses related to obtaining the licensing or training needed to work in Canada. Recipients can work to rejoin their professional field, or a related field.
IAF is Canada's only national character-based community loan program dedicated to helping skilled immigrant professionals succeed in Canada's labour market.
Anyone born and educated outside of Canada meeting the following standards may be eligible:
Permanent residents, provincial nominees, refugee/ protected person, or Canadian citizens.
Living in a province or territory other than Quebec.
Intending to work in the same (or related) field you had before landing in Canada.
Lacking access to comparable financial resources.
Not having an undischarged bankruptcy.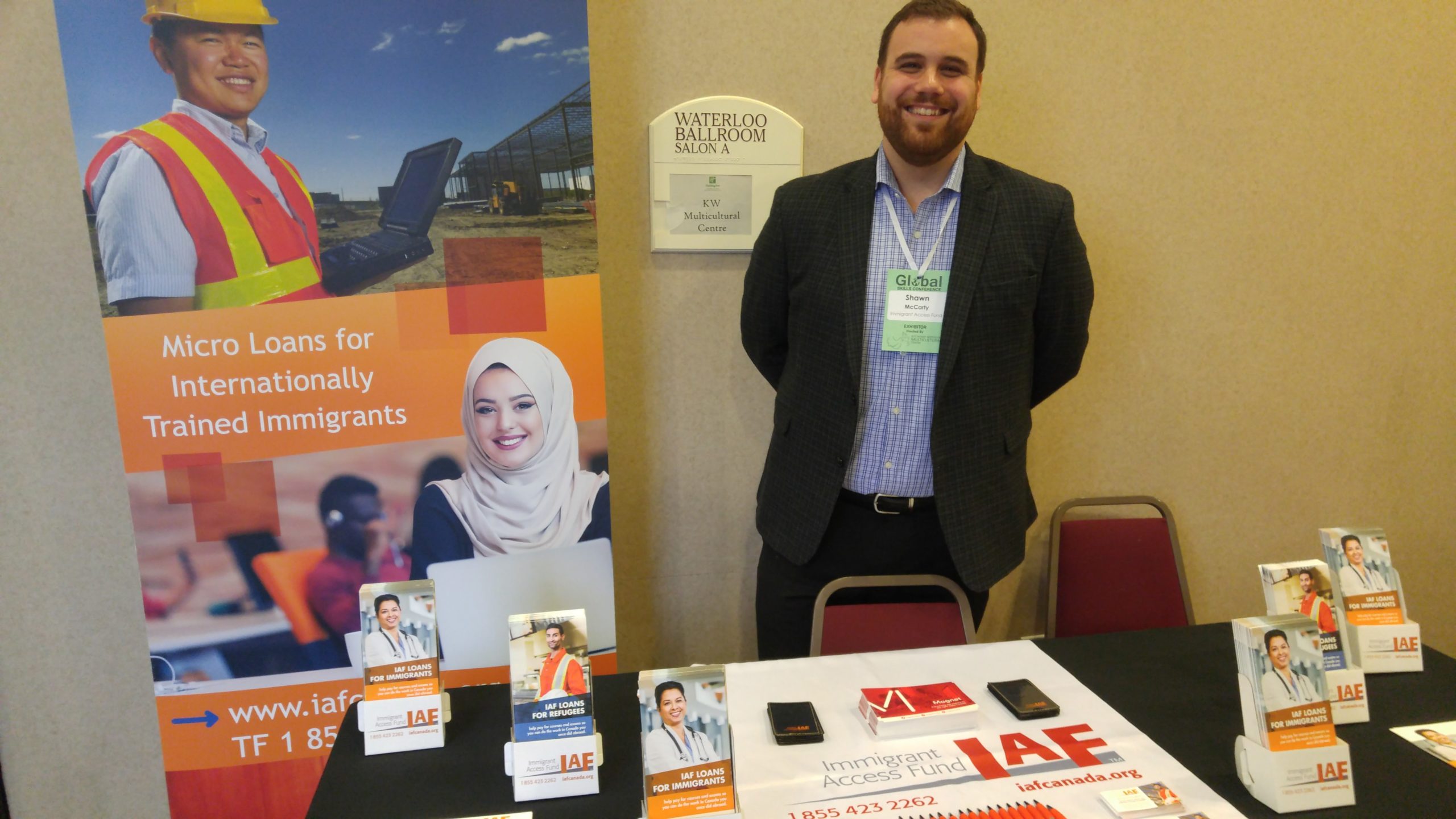 Additionally, IAF loans are not just for regulated professions. Any immigrant who will incur costs in order to work again in the occupation they had in their home country may apply. Tradespeople, skilled workers and professionals are all encouraged to apply.
Worried about your financial status? Loans are character-based, meaning they are approved on the strength of an applicant's character and career development or learning plan. IAF can lend to people with low income, Canadian credit history is not required, Interest rate is low, and repayment terms are favourable.
Are you an immigrant and do you want to return to your profession or trade in Canada? An IAF loan can help if you are struggling to pay for the costs associated with the licensing or training you need to work in your field in Canada.
Start your application now at iafcanada.org!
For more information on Immigrant Access Fund in the Greater Toronto Area, or to arrange an IAF information session, please contact Shawn McCarty, Community Engagement Specialist, at [email protected].
Please note that the Immigrant Access Fund (IAF) is now Windmill Microlending. The name is different but the program has not changed.
Connect, Like and Follow Us on Social Media!
Are you on social media? Join Next Stop Canada on our social media platforms! These pages allow us to connect with community organizations, potential clients, and local residents. Our posts include program updates, relevant events, and fun facts about Canada. Followers can connect with Next Stop Canada for news and updates about employment, networking and educational opportunities across Canada.
Follow us at www.twitter.com/nextstopca
Like us at www.facebook.com/nextstopcanada
Follow us at www.linkedin.com/company/next-stop-canada